Upward Home Solutions is a different kind of company
Let's be honest: When you are ready to sell your house, you want the most money and the least amount of stress.
Some folks are downright sneaky.
The Offer
I received an email yesterday from "Kathy" who said that I had a "pending offer for the sale of my house." Um, my house isn't for sale and I have never heard of Kathy or her company.
However, I decided to play along and clicked on the link in the email to "review offers." I was immediately prompted to choose from a dropdown menu that got progressively more and more personal.
The final prompt was for me to enter my email address and "receive my offer."
That's when I noticed the fine print.
"By clicking the button above, you acknowledge, consent and agree to the following … You are providing express written consent for (name of company redacted) to share your information with up to four (4) of its premier partners and for (company) partners calling on behalf of (company) or authorized third parties on their behalf to contact you… about financial services or other credit related offers….

emphasis mine

"Kathy" has no intention of buying my house or anyone's house. This is a cheap stunt to get my information and sell it to people who can call, text, and email me as much as they want in order to get me to use their credit cards or whatever.
Seller Beware
Upward Home Solutions is different. We only buy houses in Central Ohio. When you call us on the phone, you will either reach Tim or Amy. We don't do high-pressure sales. If you tell us you don't want to hear from us ever again, we will take you off the list.
And we would never, ever sell your information to someone else. That's so dishonest it makes me mad.
Do Your Research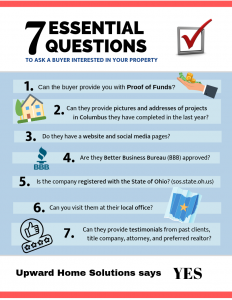 Upward Home Solutions has earned an A+ rating with the Better Business Bureau.
Read our reviews on Google.
Check us out on Facebook.
Visit our website for lots of information and a FAQ page.
Upward Home Solutions is different and that's what makes us good.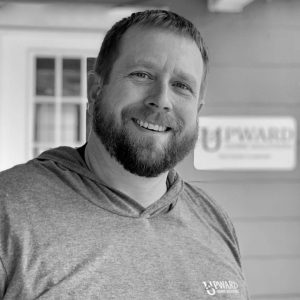 Call us today. Either Tim or Amy will answer. We will give you a fair offer with no strings attached.
614-705-0866